Author Archive
We aren't really writing here anymore; see you on the new site!
"overall this is working great and I'm impressed with where we are at this point" – Greg S.
And not to be left behind, support for WooCommerce 3.0 in Bright is also here!
Need to sell or integrate SCORMCloud based SCORM, xAPI, or AICC content with WordPress and the latest [3.0] version of WooCommerce? Bright fits the bill with
* advanced license key management
* purchaser reports
* support for variable products, multi-course bundles, and more!
Get in touch and begin monetizing your courseware today.
All in a days work. Can't wait to taste this cake ….
Discussing Bright with an active customer that runs thousands of people through their system a month:
The marketing for Bright should definitely include that fact the system does not require an administrator or an owner. I think that's really unique. It's very user-centric, not administrator-centric.
– T Dale, Penman Communications
Our philosophy is that the "LMS" piece should be completely invisible to the user, except at specific points as defined in the user requirements. So if you want to show a user's progress somewhere, then "say that" by embedding a shortcode that shows progress in that spot.
Really the only visible parts of the "LMS" are the places in the tool where it says "Launch" [unless you want it say something else].
In this way, we can call Bright a "declarative LMS" that runs on autopilot.
Overview
Pages that include bright.js can launch courses without contacting the web server that served them. They do this by connecting directly to Bright.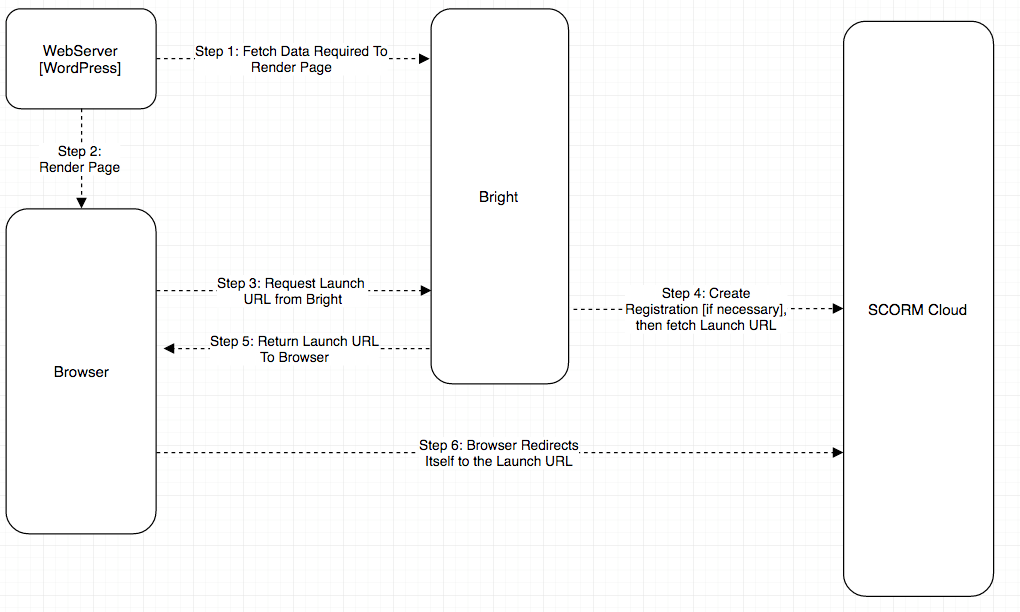 This creates one issue on the browser side, which is that it doesn't need to be able to connect to Bright to receive the page, but a networking issue between Bright and the page won't manifest itself until a **user launches a course**.
The net effect of this was users could get a 'The Bright Server did not respond' error on course launch, and the vast majority of times, this issue was local the user's browser our network. They can connect to their web server, but not to Bright.
New in Bright: Browser Health Checking
To make it easier to resolve these issues, new in Bright is Browser Health Checking. When the page loads, the browser will check it's connectivity to the Bright Server.
Here's a normal launch button:

In the case that connectivity cannot be established, the course buttons will 'grey out':

If the user mouses over the button, they will receive the following tooltip:

Now if the browser, re-establishes connectivity, the launch button(s) will automatically re-enable themselves. Neat!
When we initially created the license key functionality in Bright, invitations received their # of seats available from the product quantity selected in the order checkout.
So what if you wanted to change this after the fact? Example, customer calls, and you want to give them 10 free seats as a giveaway. Problem was, there wasn't an easy way to modify the # of seats available on the license. This was a pain point and we heard our customers, so we are happy to announce seats can be modified straight from the invitation console. It also means you can assemble a license invitation without the shopping cart! More on that later…..
Read more about it:
https://help.aura-software.com/managing-license-seats-via-the-embedded-admin-console/
Before we began working on Bright, a nifty little adaptable training delivery platform [and frequently used as an LMS], I did a stint as an LMS selection consultant.
Luckily I didn't know enough to balk when the customer added this:
And that's what we did.
Two roads diverged in a wood, and I took the one less traveled by, And that has made all the difference. – Frost
As is shown in the documentation of the Bright Invitation Report Template, adding a reporting user for an invitation is as easy as creating a "reporting_users" custom field for the invitation, and adding a list of email addresses.
One issue, though. For some complex invitations, the Embeddable Admin Console gave you a rather unpleasant JSON document to edit:
We are happy to report that via the power of "Patented Tyler magicks" as our engineer described this, complex context documents on Invitations now render as:
Ahhh …. much better.